<![if !vml]>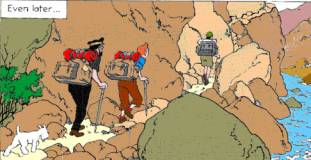 <![endif]> ©
The Teaser Page
This page really only has one purpose, to give you a glimpse of the stories I'm working on, or, as another way to put it, to show you what is "Coming Soon."  These are all works in progress, so there will be grammar and vocab mistakes. In other words, fics in the rough. Anyway, like I said, this is the Coming Soon, W-I-P, Teaser page. 
If I actually have a link up, have a glimpse, if you're curious!
Old West Stories
A man comes to town, looking for Chris Larabee, with a message demanding Chris follow him somewhere...alone.  Normally, Chris wouldn't go, but Harper has taken out some insurance.  All seven.
Untitled (Hannah's Story)
This one is a strange one.  The general gist is that the Convent in Vista City is in trouble.  What happens if Hannah has to leave...will Josiah go with her? (this one is still too rough for me to even try to offer a teaser)
Alternative Universe
NYC AU: The Cutty Sark
This one is really inspired by a store.  On Prince Street in Soho, somewhere near the intersection with West Broadway, there is a store filled with amazing paraphernalia, not the least of which are enormous models of boats.  It's one of those stores that, honestly, you could stare at the window display for hours just taking it all in.  So...I decided to see if that store could take me somewhere, and so I started a story based on it.
Back to the Fanfic Page
Copyright Note:
That's Tintin up there, from
Tintin in Tibet
,
from a picture I scanned and colored.

 

The copyright is owned by someone else, probably in
Belgium
and probably the family of Herge and Uderzo.

 

No profit will be made, as I am perfectly aware he is not mine, and no infringement is intended.